This page is about PDF Password Remover for Mac
For Windows version
click here
Client: Brian Rod

"I really appreciate the Decrypt feature, which allowed me having my document unprotected in seconds without even restoring the password."
read full review
File size:
5.4MB
Latest build:
3.1.43
Release date:
20 June, 2011
Build compiled:
20 June, 2011

User Manual
Changelog (RSS)
PDF password remover Mac app is the only tool that can remove PDF password for opening the document

There are two types of passwords to protect the PDF document: "Owner" password and "User" password. "Owner" password protects the document from being edited, copied or printed by any third party. "User" password will protect your PDF from being opened at all. If you accidentally forgot your "User" password that should open your document you definitely need to remove PDF password to gain the full access to your documentation again.

In this case remove PDF password Mac software that can remove "User" PDF password (the password to open the document) will save a lot of your precious time and effort. PDF password remover Mac app by Eltima Software is the only program on Mac that can really restore both "Owner" and "User" passwords.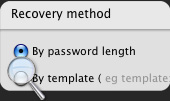 To remove PDF password on Mac use any of the efficient search methods:
Search by password length and template
If you remember the approximate quantity of characters in the password, you can perform search by password length.
If you remember some characters your password consisted of, try the search by template. In this case remove PDF password Mac software will only search for the missing characters, which is very time-saving.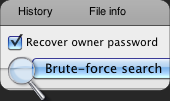 Use "Brute-force search"
If you can't recall anything about your password, the exhaustive search is the best method. However remember that it is the most time-consuming method, because it has to dig through every possible combination.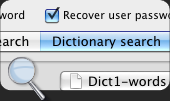 Remove PDF password Mac by dictionary
You'll find the dictionary search to be the most time-saving method of PDF password remover for Mac. Use this search method if you can remember that your password was a word or word combination or variation.
Don't ever get upset because of forgetting the "User" password to your PDF document, because Eltima's unlock PDF Mac software will recover it flawlessly!
Full features list:
Supports Unicode passwords recovery
Adobe Acrobat software is not required
Supports all versions of Adobe Acrobat up to v.9 with its 256-bit encryption
Recovers "User" password required to open the file
Recovers "Owner" passwords, which prevent PDF files from being printed, copied or edited
Creates decrypted copy of a file if "User" password is known
Optimized for multi-core computers, resulting in a faster and even more efficient password recovery.
Brute-Force search is used to recover the "owner" and "user" passwords
Offers several recovery methods: by password length, by template, by dictionary or exhaustive search.
You have a possibility to minimize the search time by specifying your own template - include or exclude lowercase and uppercase letters, digits, etc.
Decrypted file passwords can be viewed any time
View protected PDF file info: general (like file name, PDF version, enciphering, etc.), and more specific (revision, owner string, etc.).
Features digital signature removal
Drag and drop PDF files support
Flexible and user-friendly program interface
Demo version limitations:
The recovered password will only have 3 first symbols visible, the rest will be masked with "*"
File decryption is available if owner or user password was restored or user password is absent. However only first page will be decrypted and watermark will be applied to it.
Compatible with::
Mac OS X 10.5
Mac OS X 10.6
macOS 10.7
macOS 10.8
macOS 10.9
macOS 10.10
Interface languages: