This page is about PDF Password Remover for PC
For Mac version click here
Client:Trey Fary

"This wonderful program helped me restore my password for a very important and urgent report. Wow! Thanks! "
read full review
File size:
7.32MB
Latest build:
4.0.238
Release date:
22 March, 2012
Build compiled:
22 March, 2012
Compatible with:
User Manual
Changelog (RSS)
Why and how to remove PDF password

Nowadays the important data is usually stored and exchanged in PDF format. Some of the PDF documents are protected with a password, which won't allow to print, edit, or copy the document contents. There is another type of password, which doesn't allow opening the document without knowing the password. Of course this is a great advantage to be able to protect sensitive data with a password, however there are many situations when the password protection brings lots of inconveniences.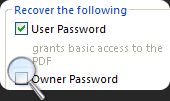 One can find himself in a plenty of situations when it is really needed to remove PDF password
Remove owner and user password protection
Situation #1

You are the owner of the document but totally forgot what the password was.

Situation #2

You were given a PDF document and need to open it for your work, but you weren't informed of its password, or you can't print or copy its contents.

Situation #3

Your colleague changed the job and left you the password-protected PDF documents. You need to access and edit the file urgently, but there is no record of what the password was.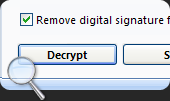 Right solution
Those were several typical situations when it is vital to remove PDF password, so here's how you can do it. There are many programs out there promising quick recovery of the PDF password. One of the top solutions on the market is PDF Password Removing tool by Eltima Software. PDF Remover stands out among other similar solutions because of its ability to recover two types of passwords: Owner password that restricts printing, copying, and editing of the document, and User password that restricts opening of the document.

Searching for User password is a challenging task and PDF Security Remover offers several ways of recovering it - search by password length, dictionary search, and exhaustive search.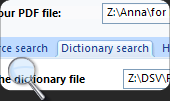 Perform the following to remove PDF protection:
1. Download PDF Password Remover; 2. Launch the program and add the PDF file to it; 3. Choose the type of the password you are going to recover; 4. Choose the search method (choosing the right method will save you time); 5. Press the "Start recovery" button; 6. Obtain the needed password.
Thanks to a user-friendly interface and efficient performance Recover PDF Password is extremely easy to use and understand!
Full features list:
Recovers "user" password required to open the file
Recovers "owner" passwords, which protect documents from being printed, copied or edited.
Network distributed search, which speeds up password search significantly (for Network Editions only)
Working on multi-core computers makes Recover PDF Password performance even faster and more efficient
Supports Unicode passwords recovery for Acrobat 9.x files!
Supports PDF 1.7 (Acrobat 9.x) files, including 256-bit encryption
Adobe Acrobat software is not required
A vivid progress bar will show you how much time is left for password recovery
Brute-Force search is used to recover the "owner" and "user" passwords
Offers various recovery methods: by password length, by template, exhaustive search or dictionary search.
Specify your own template to minimize search time if any part of the password is known - include or exclude digits, lowercase or uppercase letters, etc.
Creates the decrypted copy of the file if "user" password is known.
Removes the digital signature from a decrypted file
Non-English characters in passwords are supported
Decrypted file passwords can be viewed any time
Drag and drop PDF files support
Flexible and user-friendly program interface
Demo version limitations:
A PDF file password can be recovered if it is not longer than four symbols when performing brute-force search or network search. When dictionary search is used, password of any length can be recovered, but only the first and the last symbols will be shown.
File decryption is available if owner or user password was restored or user password is absent. However only first page will be decrypted and watermark will be applied to it.
Compatible with::
Windows XP (32-bit and 64-bit)
Windows 2003 (32-bit and 64-bit)
Windows 2008 (32-bit and 64-bit)
Windows Vista (32-bit and 64-bit)
Windows 7 (32-bit and 64-bit)
Windows 8 (32-bit and 64-bit)
Windows 10 (32-bit and 64-bit)
Windows Server 2012
Interface languages: