Step-by-step instructions how to remove PDF password:
1.
To remove PDF password download PDF password remover from this page and install it.
2.
Launch PDF password remover on your computer to remove PDF password easily.
3.
Browse to the needed PDF file and add it to PDF password remover.

4.
To remove PDF password choose whether you will be removing "Owner" or "User" password.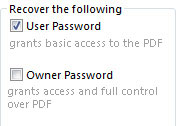 5.
If your document was protected only with "Owner" password, you can decrypt it right away. In result a totally unprotected copy of this file will be created.

6.
Choose the search method. The correctly chosen method can save a lot of your time. PDF password remover offers the following remove PDF password methods:
- Search by password length. If you remember the approximate length of the password, indicate its minimum and maximum length.

- Search by template. If you remember some characters of the password, use this method.
- Exhaustive search is needed when you can't remember anything about the password.
- Use Dictionary search method if you can remember the password was a word, or word combination, or modification. It is the most time-saving search method.

7.
Click "Start recovery" button to remove PDF password and access your PDF file again as if you always remembered your password! your password!